Add a splash of colour to your garden!
Items Required:
Basket- wired or solid sided (like a rattan basket)
Basket liner – if using a wired basket
Compost- peat free container & basket
Slow-release fertiliser- such as Miracle-Gro All Purpose Continuous Release Fertiliser
Water retaining crystals- such as Miracle-Gro Moisture Control Gel
Pot or bucket- up-turned to support the basket
Basket plants – choose a mixture of upright and trailing plants.
How many plants do I need?
A general rule of thumb for hanging baskets is to use one plant per inch of basket diameter- e.g. 12 plants per 30cm (12 inch) hanging basket. The only exception to this is when you use strong-growing plants such as fuchsias and geraniums. For these varieties, you'll only need to use 5 plants per 30cm (12 inch) hanging basket.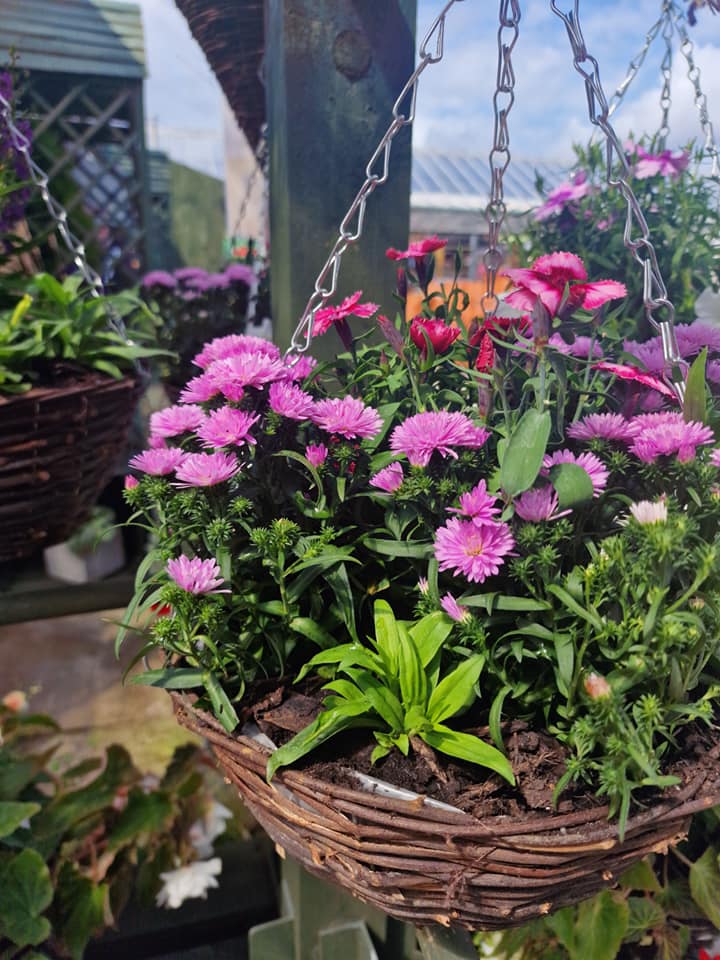 Planting your hanging basket
Rest the basket on an up-turned pot to keep it stable
If using a wire basket, add the liner so it is snug in the basket. This doesn't apply if you are using a rattan basket
Fill the basket by two-thirds of compost, slow-release fertiliser and water-retaining crystal mixture and firm down
Insert your chosen centre plant
Add any trailing plants around the edge
Fill any gaps with assorted upright basket plants
Fill in any gaps with further compost mix and firm down
Water well and hang in position.
Top Tips: 
Use a light liquid fertiliser once every 2 weeks- this will ensure your plants are getting the nutrients they need to grow and thrive.
Dead-head throughout the season- this encourages stronger growth and more flowers.